Hello, first I want to introduce myself.
My name is Humbelum and I'm a Super Novice Player from euRO.
Click
&
Click if it not works
I want to share some information about the new level expansion on kRO Sakray with you. Maybe there are some Super Novice players that are interested in this.
For all those who never heard about that: The Level Expansion allows Super Novices to go over level 99 and get a few(most crapy) 2nd Job Skills. There aren't much information about this expansion because not very much people got this expansion on kRO.
This is the skilltree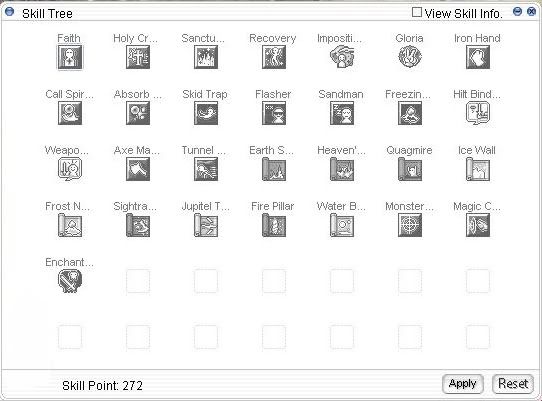 Gravity reseted the kRO Sakray Server(my 99/99 SN T_T) in oktober last year and removed all test NPCs for buying cards/equipment/upgrade or free reset. That was the first step of Gravity to annoy all super novices
Skill and stat reset is still possible but costs 100k Zeny each. I got some amount of Zeny because I owned a castle a few times.
I started again from the beginning and after a few weeks I reached level 99/82. Thats right, base level 99 and Job 82... till I reached Joblevel 99 I got 16,8m base exp! Thats the Exp from 98 to 99 *4. As 3rd Job you would be level 101 with 42%!
After I got Job99 I did the ExpansionQuest:
...
One part of the quest: kill 1000 Porings! 1000 boring porings...
After I finished the Quest I was level99 with 16,8% Base Exp(16,8m from the old lvl99 99m=100%).
I killed a Poring again and got Level 100 with 95,6%... not 101
Okay, now just compare the two pictures above. I didn't change my equip. As you see I have about 1000 HP less and 27 SP less. But thats quite normal when you go over 99.
The Joblevel bonus is removed and it seems like it starts again from +1 to all.
I made two screenshots to compare the base HP before and after.
This Screenshot shows also the amount of Exp I got till I reached Joblevel99.
The Base HP decreased from 4400(lvl99) to 3650(lvl100).
The Base SP increased from 83 to 181 but I have less SP with Equip... don't know :/
If I want to get my old amount of HP I have to skill Faith level5... so level 10 gives just 1k hp more. I hope the HP increase a lot more on higher level.
Leveling is a pain because I dont have any strong skill. The Jobexp needed is very high so it will take a while till I can try to level with one of these skills. I think I choose WaterBall or JupitelThunder. Most monsters in my level range have 10-20k HP so it's not very easy.
Please keep this topic in english. Thanks