Hello everyone,

I want to present you my personal fan project, a fully featured international market watch for fRo!

http://www.amity-guild.de/favicon.ico http://www.amity-guild.de

Features in short:
multi-language

approved data bot

intelligent keyword search

detailed item and merchant information

armor enchants and most new items

offline search

personal bookmarks for items and shops *

alarm sound when item comes online *

detailed price history

static search urls

merchant images

and a lot of small stuff not worth being mentioned here ...
* = to use these features you need to
register a free account
Using my own bot, which is

approved by Gravity Europe

, I offer some additional services for the community:
vCard system
http://www.amity-guild.de/vcards/
You want to have a signature that shows your character? And that displays the current level automatically?
Or you are the leader of a permanent levelling group, and need level information of your members?
You have a fan site with a signature generator, but you need up to date data for characters?
You are invited to use the Amity vCards! They are very easy to use: To get the image of a character, just enter the characters name in the search field - you will get the image link, a forums code and a link to the character XML interface.
Right now, I only offer one basic design - this might change in the future:
Please note:
To protect your privacy, all characters are "hidden" by default. To activate a character, you just have to go ingame and whisper
show
to the Amity bot
AmityMarket
. Your character will then be visible, as soon as the bot has seen you once. To hide your character again, just whisper
hide
to
AmityMarket
.
Your characters are updated, when you are in prontera. When you stay near the main spawn for ~5 minute, your character should be updated. Most of the time, update will be faster though.
If you have your own fansite with a signature generator and need help using the XML interface - send me a pm, or post here!
Public Broadcast API
If you have want to check, what the last broadcasts were, or if you have your own fan site and want to use broadcasts for a castle watch, or a seal watch or something similar, you can use the following (very simple) API:
http://www.amity-guild.de/bc.php
This displays the last 100 ingame broadcasts, newest Broadcasts at the top.
To get earlier broadcasts, just provide an id - which is equal to the internal Amity Broadcast-ID in the first column of the file:
http://www.amity-gui.../bc.php?id=1300
This displays the next 100 broadcasts, starting with 1300 going to 1399.
If you need any help in implementing this on your fan site, just ask me!
Now, some very detailed information about the Amity Market Watch:
Intelligent keyword search
You don't have to know the complete name of an item you want to find. If you search for "
valk
", both "
valkyrja's shield
" and "
valkyrian shoes
" will be found!
Even better, if you search for "
hydra
" or "
bloody
", you will find all weapons with hydra cards, and the card itself! So, you could search for "
shield thara
" or "
cran shield
", both will find "
cranial valkyrja's shield
".
To find status enchanted armors, you would just search "
+3 str
" to find armors with +3 strength enchant, or "
formal suit int
" for intelligence-enchanted formal suits.
The market watch even knows fRo and international item names - searching for "
slim potion
" would find all condensed potions, "
proxy skin
" finds nyddhogurs shadow garb!
fast data updates
Though data is not real time (this is technically impossible without direct access to the game database), the bot updates the market every 3-6 minutes. The exact time depends on how many shops are online.
Most shops and items that come online are visible within 10 minutes on the market watch.
To collect shop and vcard data, Gravity Europe has granted me access to a special account with GM-hide.
I use my own, specialized plugin to collect shop data, and the bot automatically detects server downs like maintenance or server crashes, and will reconnect on its own afterwards. No need to wait until I start him again.
additional search parameters
If you are looking for specific items, lets say, any shield that is +7 or higher, you can use the additional search parameters.
You can even set a price range, or the item category (some items may still have the wrong category though, I am working on that)
Item and Shop history
The market watch does not only know items that are currently in shops, but it also tells you when some item has been seen last, and for what price! And this goes back to the very first day the market watch received data!
The shop view shows you all the items that are available in a specific shop. It even displays the right order! So, if there is first a Silk Robe[1], and after that an Arc Wand[2], you can be sure that this is the order of the items ingame!
graphical merchant position and merchant image
To help you find the shop, the market watch creates a 3d view of prontera with the exact merchant position. You can use columns, trees and buildings for orientation!
And, in addition, you even get an image of the merchant! So you can search for an alchemist with green hair, for example. Please notice, headgears are not implemented - this is a lot of work which I can not do right now.
extended item information
For items there are extended information like average price, multi language description and information about all compounded cards.
flexible bookmarks
If you register an account (for free,
no mail spam - I promise
), you can save your favorite searches as a bookmark to easily redo the searches with just 2 clicks!
If you bookmark an item, it will automatically show at the top when it is online!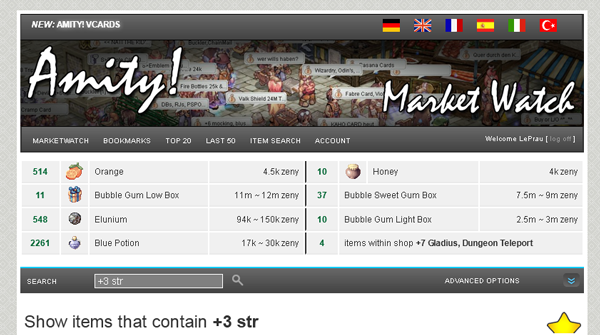 And this is not all: If you activate alarm sound in your account settings, and in the bookmarks, an item that comes online will play an alarm sound - You only have to keep the market watch open in the background.
So you will never miss again the damn card that you need so much and that goes offline the moment you remember to search for it!
Of course, if you are actively using the site, the alarm sound would not play when an item comes online - you will see it anyway, I guess.
Bookmarks are not limited to items or shops, they even work for searches like "
+7 valk with price below 18m
". But then you will have to click them manually in your bookmark list to re-check them. This has technical reasons, a complex search creates a lot of server load - and if it would update for every bookmarked search every time shop data is updated, it would just kill the server.
[b]static search urls
This might not seem as an advantage first, because there is no "web 2.0 ultra modern and stylish AJAX search". But, at every point you can just save the current page into your browsers bookmarks, or copy the url to a forum.
Whoever else opens that url, will have the same search opened! So, to give your friend a link to the weapon he is looking for is very easy!
[b]multi language site interface and item descriptions
Not that important, one might think, but a lot of people do not speak foreign languages well. And for those, I included support for multiple languages. In theory, even chinese could be supported, practically right now it is "only" english, french, german, spanish and turkish! If available, both site interface and item descriptions are translated, else the site falls back to english. If you miss a language, or find any mistranslations (in the interface) - send me a mail or pm, my french is horrible, and I don't speak turkish at all, so I would appreciate any help.
There are quite some more features that are hidden below the surface, but check out for yourself.
As I am still working on the market watch, I am open for suggestions.
If you have questions, feel free to ask!
Have a lot of fun on fRo

PS: Thanks to fro GMs and Gravity Europe, for making this site possible!