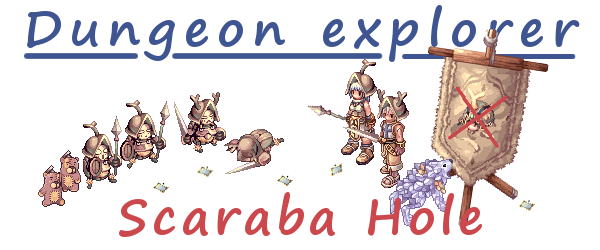 Scaraba Hole, a home for a huge family of lovely insects. (Rascel forced me to write this, brr insects!
)

The dungeon lies underneath the Kamidal Mountain, a snow covered mountain in the Manuk region which is part of the of the New World. The dungeon is accessible via the Kamidal Tunnel. This is a tunnel which connects the capital El Discastes – home of the Saphas – with the town of Manuk and the Exploration Camp of the Rune Midgard Kingdom.

But be careful, the tunnel itself is full of beetles and they protect their brood nest with their life.
The underground nest is the home of Queen Scaraba and her brood – can you survive?
(If so, are you brave enough to enter the Nightmare Scaraba Dungeon?)

Rascel and I heard about this place and we discovered these beautiful and cute helmets of the Scarabas.
We decided to use this marvelous helmets for our private army, but...
we are only Super Novices... So we need your help this time – will you help us?

During 15th May to 28th May you have the chance to win Angeling Coins.
Bring us 600 Single Horn Helm or Twin Horn Helm for one Angeling Coin - How much you earn is up to you!
(e.g, 600 Single-/Twin Horn Helm - 1 coin, 1200 Single-/Twin Horn Helm - 2 coin etc...)


Single Horn Helm and Twin Horn Helm

can be obtained by killing Uni-Horn Scaraba and Horn Scaraba in Scaraba Hole F1 (Kamidal Tunnel) or

Scaraba Hole F3 (Skarava Hall).



On 28th May you can trade in your Single- and Twin Horn Helmets
for coins at 3:30 pm in the CH-House - please be on time.


Please note; you have to open a trade with CH Byakka or CH Rascel to obtain the Angeling Coins.