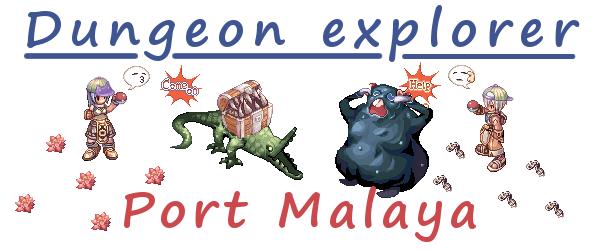 Port Malaya
, a land far away from Rune-Midgard and full of mystical beings.
This beautiful place is part of the Global Project and was first introduced during Episode 14.1 on kRO.
There you can find typical traditions, countryside, creatures and so on of the original country, the Philippines.
You can reach this island via ship starting from the Alberta docks.
But back to Port Malaya itself. The area consists of a town and 4 places for adventurers to go:
- Bangungot Hospital, a former hospital for the Malayans, now a cursed and creepy place.
- Buwaya's Cave, the hideout of Buwaya, a treasure hoarding crocodile.
- Baryo Mahiwaga, a small village outside Port Malaya overcrowded by monsters.
- Bakonawa Lake, where the dragon Bakonawa lives.
On our last training trip to Port Malaya, Byakka found some beautiful flowers she really liked.
But... flowers don't last forever – will you help me collectiong new flowers for her?
(Of course we will reward you in return with Angeling Coins)
During 12th to 25th June you have the chance to win Angeling Coins.
Bring us 250 Elegant Flower for one Angeling Coin - How much you earn is up to you!
(e.g, 250 Elegant Flower - 1 coin, 500 Elegant Flower - 2 coin etc...)
Elegant Flower can be obtained by killing Mangkukulam, Manananggal and Jejeling in Forest, Baryo Mahiwaga and Malaya Bangungot Hospital 1F.
On 25th June you can trade in your Elegant Flowers for coins
at 3 pm in the CH-House - please be on time.
Please note; you have to open a trade with CH Byakka or CH Rascel to obtain the Angeling Coins.