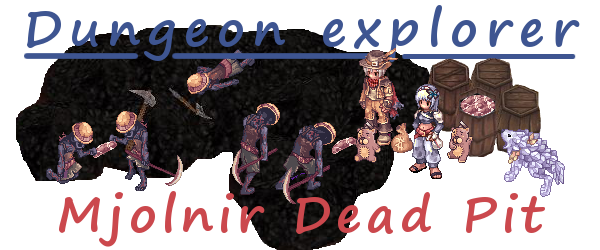 Mjolnir Dead Pit
- Our Mission: Love for the loveless lifeless!
In a few days we have St. Valentins Day and we want to spread the light of love
all over the world of Midgard. But not to the normal people - there are other events for them~
We are thinking of our undead inhabitants.
They are living in the dark and no one ever watches after them.. q.q
We will! And it's a good way to get right of the thousands of Rotten Meat
from our last Dungeon Explorer event - perfect win-win situation :D

Will you help us with this honorable task?
This year we'll start with the Skeleton Worker in Mjolnir Dead Pit.


(Btw, the truth is.. we want all the treasures in the mine, so we are using the rotten meat to lure them out of there hideouts
and you will "clean" the way for us~ Ah, I almost forgot an important thing! Bring us their Lantern.
It's dark inside the mine so we need some light on our way.)
During 12th February to 25th February you have the chance to win Angeling Coins.
Bring us 1200 Lantern for one Angeling Coin - How much you earn is up to you!
(e.g, 1200 Lantern - 1 coin, 2400 Lantern - 2 coin etc...)
Lantern can be obtained by killing Skeleton Worker in mjo_dun02 & mjo_dun03.
On 25th February you can trade in your Lantern
for coins at 3:30 pm in the CH-House - please be on time.
Please note: you have to open a trade with CH Byakka or CH Rascel to obtain the Angeling Coins.